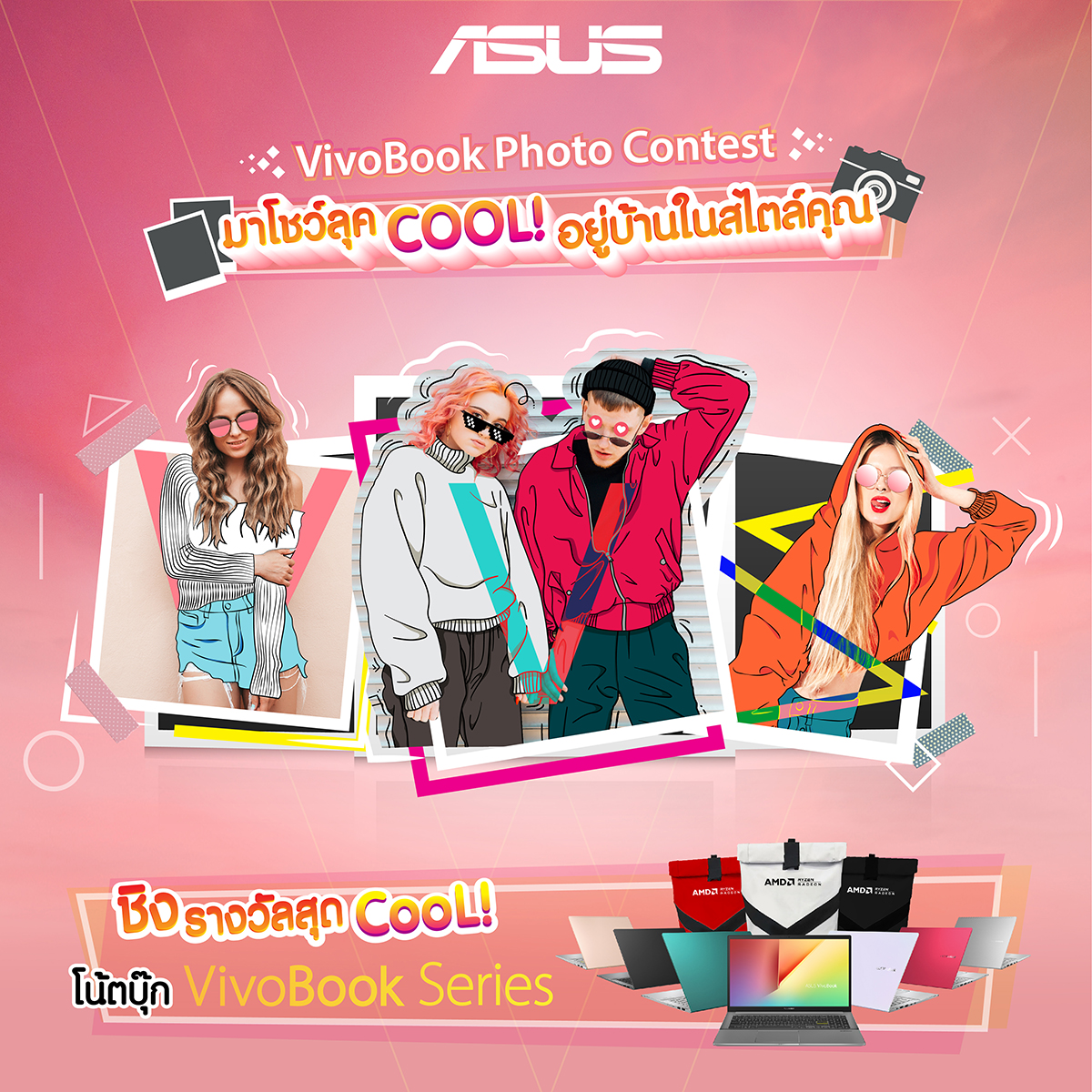 ​
​ " Win a free Asus VivoBook Series !!"

Just join the activity "VivoBook Photo Contest to show off the cool look at home in your style."
Share your photos that you think matches with the 6 new colors of the New Asus Vivobook.
​
Fun participation rules (Updated and revised additional rules on 21/05/2020)
1. Show any style of image That you think matches with your favorite VivoBook color Resolute Red, Gaia Green, Indie Black, Dreamy White, Hearty Gold, Transparent Silver
2. Post your photos on at least 1 social channel. You can either Facebook, IG or Twitter. And tell us that "Why do you like it and want a New VivoBook?" And include a hashtag #ASUSxROGChooseyourstyle #VivoBookContest
3. Capture your post to comment under this post. (Must include Profile name, caption, and photo) link
facebook.com/ASUSTHAILAND click
4. Make posts that participate in the event public. (for the team can check)
(Join the fun from today - 5 June. Announcement of activities on 15 June 2020)

All prizes include
• First prize - get a New Asus VivoBook Series (1 device per prize randomly chosen by the lucky winner of the activity)
• Consolation Prize: Receive ASUSxAMD Backpack, amount 9 prizes (1 prize per randomly selected from the lucky winners who participate in the activity)
• A special prize that ASUS intends to give to the participants with the most creative ideas to receive 1 New Asus VivoBook Series (1 device per prize)
* Participating images must be posted on social media until the result announcement date. And must be made public in order for the team to be able to inspect
** The decision of the ASUS Thailand team is final. We reserve the right to change the terms or conditions without prior notice. The committee and employees of ASUS are not eligible to receive prizes from this contest.